Are you ready to start your journey to a picture-perfect smile but are unsure which type of braces is right for you? We're here to help. There are several types of dental braces that treat crowded teeth, spaces, poor alignment, as well as other issues like jaw or TMJ pain, grinding, clenching of the teeth, and speech impediments.
What are the top 5 types of braces?
There are 5 different types of braces, including traditional metal braces, self-ligating braces, lingual braces, ceramic braces, and clear aligners (also known as Invisalign). In order to better understand which treatment is the best option for you, make sure to consult your orthodontist.
Traditional metal braces are one of the most common types of braces and are usually the least expensive while still being extremely effective. By using metal brackets and wires that are attached to the teeth, metal braces straighten your teeth over time with various adjustments during each appointment. Metal braces are the most noticeable but also offer colored elastics for a more colorful smile. Many patients enjoy switching the elastics every appointment.
Traditional braces and self-ligating braces are very similar in appearance as they are made from the same materials. However, self-ligating braces use clips to hold the metal wire in place instead of elastic bands, which creates less friction. These clips help reduce the amount of pressure being placed on the tooth, requiring fewer adjustments and fewer appointments. Self-ligating braces come in metal, ceramic, or clear brackets and tend to be slightly more expensive than traditional ones. On a positive note, without the use of bands, patients usually have an easier time keeping their braces and teeth clean!
At Tasios Orthodontics, we offer Damon Braces, which are a type of self-ligating braces. Damon braces create broad, wide smiles to help maximize the aesthetics of your smile. Plus, this treatment uses a gentle, low friction force, meaning less discomfort for patients.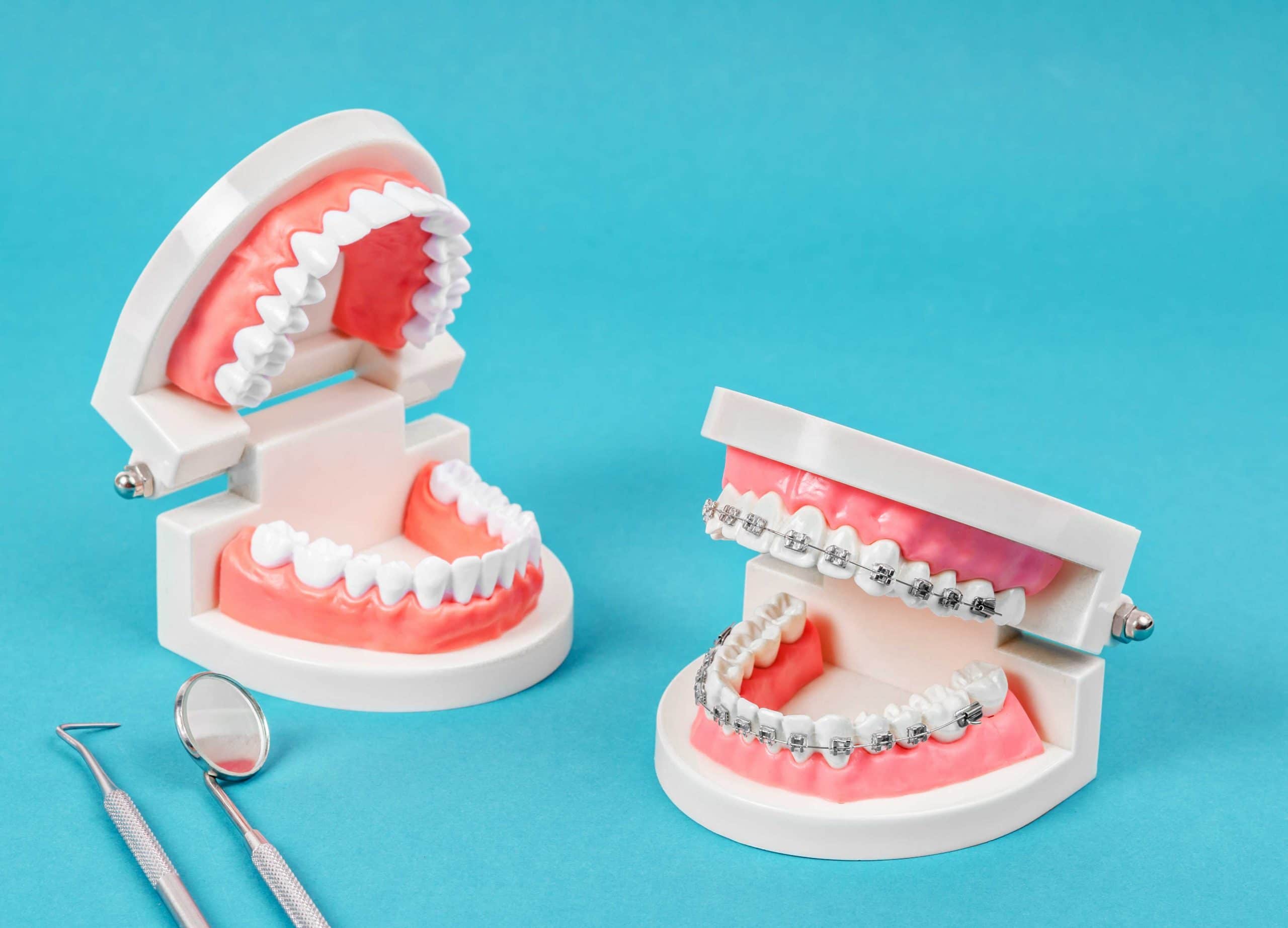 Another main type of braces are ceramic braces. Ceramic braces are typically the same shape and size as traditional braces, however, they differ in color. They include clear brackets that blend into the teeth. Some use metal-colored wires, while others use tooth-colored wires to be even more discreet. Ceramic braces are just as effective as metal ones but are more favorable for those wanting a less noticeable way to straighten their smile. Patients must practice great oral hygiene to ensure the ceramic brackets do not stain, but other than that, this is a great option for patients with cosmetic concerns – typically older teenagers and adults.
Lingual braces are also similar to traditional braces in the way they involve both metal brackets and a metal wire. The main difference is that lingual braces are attached to the inside of the teeth. This is great for patients wanting to hide their braces, however, this treatment is often less effective than traditional braces and also takes longer. And because the braces are attached to the inside of the teeth, patients often feel discomfort when they come in direct contact with the tongue. This option, along with Invisalign, is best for those wanting to secretly perfect their smile.
Clear Aligners (Invisalign)
Clear aligners, also known as Invisalign, are the most discreet kind of braces because it does not involve any brackets or wires. Instead, Invisalign uses various custom-made clear aligners to straighten the teeth over time. The aligners are easy to remove and put back in, allowing patients the freedom to eat and drink anything. Every two weeks, a new aligner is worn to fit perfectly over the teeth. It may feel tight at first, but the teeth adjust quickly. Invisalign is usually more expensive than other treatment options and isn't recommended for severe cases. Minor adjustments are better for this type of braces.
Which braces are right for me?
Choosing the right type of treatment is unique to every patient. Each type of braces has advantages and disadvantages that need to be considered based on the patient's situation. Do you want to hide your braces, or do you want to embrace them? Are you looking for one that's the most budget-friendly? Do you have a minor case? These are all questions to consider. If you are ready to start your smile journey, please make sure to talk with a credible orthodontist and take the above information into consideration. Every smile is different and deserves an approach that's custom to you.
At Tasios Orthodontics, our team will happily answer any questions you may have over a consultation. We utilize the most innovative technology in orthodontics and strive to always make you comfortable during each appointment. We want to give you a smile that screams confidence and happiness.